Paul Candiflp Blackwood
10th April, 1972 - 26th December, 2020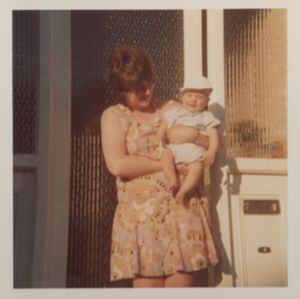 Paul was born in Liverpool and lived in Lancashire in his early years. Paul was extremely close to his nan, Doreen, who took him to the World Museum in Liverpool on Saturdays where he developed his first insight into other cultures and his life long study of Anthropology. The family moved to Shropshire in 1980. He didn't understand the racism that surrounded him in the small farming community after leaving his multicultural city life. Like many thoughtful and gentle individuals, he was bullied for not being in the alpha male "gang" that the rest of the boys were (or at least were pretending to be) in. From the late 70s he always wanted to be Princess Leia when playing Star Wars games. One of our in-jokes was about sticking pastries (that he had a very sweet spot for) to the side of his head in order to acheive the hairstyle. After suffering much aggression and labelling as a freak by the other kids, he lost in interest in school. Although extremely intelligent, Paul did not perform well academically but realised his creative powers when learning guitar from his best mate Gez, around the age of 14.
His mum Lorna was his rock as a teenager and took him to see all his favourite touring bands by driving him about the North West, often sitting in the car park reading a book whilst he went to conquer the mosh pit and stage dive with his pals. He always told me Lorna was his best mate. He studied creative subjects for many years - Photography, Media Studies and Communications, firstly in Shrewsbury College. Paul photographed bands like Mudhoney, Loop, Primal Scream and the Walking Seeds for his A Level in Communications - a fanzine for which he wrote all copy and provided all original images. Tutor and students thought he'd copied it from a published magazine. He was so shy that he paid to get in to the gig, despite having a photographer pass, and hung out with Bobby Gillespie backstage when he was still at school.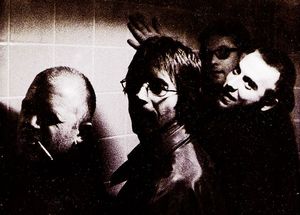 Moving to Dewsbury in 1990, Paul successfully dropped out of his HND in Art and Design (Photography) in 1992, embarking on a life of rock and roll and silversmithing around Leeds and Hebden Bridge. He joined several musical projects as he had passion on drums and guitar but his first "proper" band was Millenium Sound Cruiser also known as Lakadayzyk, in which he played bass. He started audio visual collective Reality Check with Jake Mochnacz and Stan Mytkowski but when they teamed up with London based Tim Ockendon, they got a slot the Ministry of Sound, making the walls look shit hot for LTJ Bukem. The crew were lapped up by Turnmills Nightclub in Farringdon having a residency 1996-2003. The success of the AV Lounge necessitated a move for Paul and then partner, Clare, from Hebden Bridge to glamorous south London, where his eldest son Leon was born. They were blessed with triplets two years later. 
I knew of Reality Check for some time, being on the VJ scene. I was hosting femi9product nights and involved in squat parties, festivals, club nights and art happenings including The Warp, Megatripolis, Sugarlump and Triology. I didn't actually meet Paul in person for quite a while, but spoke on the phone a few times, as we had borrowed Reality Check's projector from Tim, who was seeing Miss Plunkett, a regular VJ at my events and occasional house mate.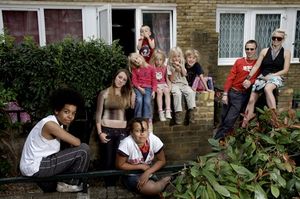 After a short courtship (involving hospitalisation due to disco damage in the form of a snapped ACL) Paul and I got handfasted in a pagan ceremony at Avebury in 2003 on the summer solstice. We had our youngest child - Luka in 2004. We already had several children before we met, with other partners - Natasha b. 1990, Joel b 1993, Tanzi b.1995, Leon b. 1999, Io b. 1999 and Kara, Elliott and Jessie b. 2001. All the older kids doted on Luka; a most loved baby to the whole family. 
Paul was mostly involved in electronic music projects in the early Noughties. Many VJs and DJs including Overlap, Vitascope, Amoeba, Lepke B, Rai, dubkult, Tom Baker, VJ Anyone, Tom Heycock were involved in the AV Speakeasy, Club A&V & Dubshack that Paul convened at Turnmills. We formed Punkvert in 2003 as an umbrella organisation for the many art forms we were putting out, including film, music and art. After VJing at a Love Music Hate Racism event in 2004 and witnessing Miss Black America and Data Panik, he decided to pick up a guitar again after a long break, and a glut of anarchistwood base tunes were first uploaded to the internet archive on November 22, 2005. This became the foundation for our first album.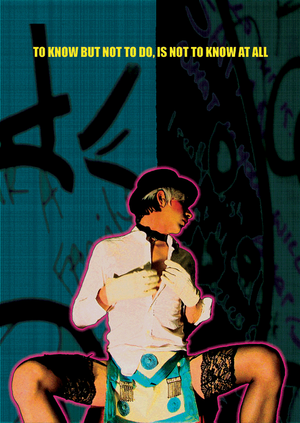 Skipping out of band world for a while, Paul was camera operative on a trip to Texas Death Row with Carrie Reichardt of The Treatment Rooms. In 2008, 402 came out, an award winning AV documentary about the relationship between Carrie and her pen pal John Joe Amador, otherwise known as Ash. A small London based group flew over to be with Carrie as she witnessed Ash's execution. Texan family and friends welcomed artist Nick Reynolds and allowed him to make Ash's death mask hours after his state ordained murder. I do believe this look into Hell on Earth i.e. capital punishment in 2007 affected his already sensitive mind very seriously and he never got over this horrific event. Nobody should. It's just wrong. I wasn't even there, but as editor, having to replay footage over and over of a freshly executed person, it certainly got to me. I'm sure everyone involved was affected deeply by the experience. 
Shaking off the encounters of stateside horror we continued with music. We grouped together with several other musicians to fill out the anarchistwood project, some we already knew and others who we were not acquainted with, finding through Gumtree, Myspace and friends' recommendations. This arrangement has continued with a regular flow of people through the band. Our first full band gig was at Brixton Jamm at Larry Love's Outlaw Night in 2006. By 2008 we found ourselves writing all of the lyrics, mostly me. Candi wrote less. He complained his lyrics were too angry and bitter! Paul composed the vast majority of the music. He was very particular about the music style and content. So opposed to borrowing (or nicking!) other people's music, he would wake up freaking out that he'd ripped off Melvins or Butthole Surfers or Alice Donut - US bands that we absolutely loved and admired. He hadn't! We enjoyed getting guest musicians and alternative voices onto our records and were lucky enough to include guests such as Dusty Limits (stage superstar), Sobriety Twist (operatics and toilet etiquette), Tom Antona (singer of Alice Donut), Johnny Deluxe (RIP), Handsum Pete, Larry Love (Alabama 3), Devlin Love (A3) Harpo Strange Love (A3) Diane Goldie, Emmet O'Riabhaigh (Plinth), Yamashiro Yukiharu (father of Acid Panda) Jenny Runacre (actor) and many other people. Our immediate output was self released on our own label - Ex Gratia Recordings, which very much reflected Paul's ethos of giving things away. Omnia Sunt Communia wasn't just one of his tattoos, he really did believe that eveything belongs to everyone and fiercely objected to  division of communities with land ownership. He always blamed the Normans, although it must be said greed was associated with Angles, Saxons, Romans and pretty much anyone trying to make a buck for eons prior. Ex Gratia Recordings continuted to release music from fringe freak bands including Sexton Ming, Rude Mechanicals. Erreth Sondabeng (not Paul, honest) recorded and mixed many albums and tracks for the label. This music output was accompanied by collage artwork produced by Paul which became ever more intricate and beautiful appearing on album covers, as flyers and posters and also leading to individual pieces and several punkvert exhibitions.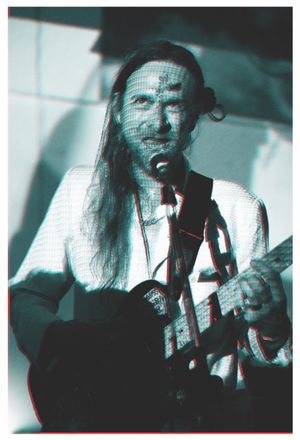 The music and lyrics of anarchistwood referenced many injustices of war, the arms trade, politics as well as the usual sex, drugs and rock n roll that many "punk" bands are expected to write about. The albums were well received but as Paul was hugely self critical and hated drawing attention to himself, publicity was deliberately muted. Album number three "The Nasty Album" was very late in coming out after a five year production hiatus, whilst Paul was cleaning up his act and getting to grips with a sober life. Once the vinyl arrived in 2017, Paul was much happier with this output and was proud to put his name to the piece. Grow Your Own Records gave anarchistwood a super anarcho boost when they put out a single for us - Bomb in a Luggage Rack in 2016. The project is supposed to last eight albums. So far there have been four released with a fifth, "Chiasmata" in the final stages of recording.
Paul started working in Rock n Roll Rescue charity shop at the suggestion of great friend, artist and poet Johnny Deluxe and Knox Carnochan of The Vibrators, as a vinyl aficionado. He also worked Mondays at the independent unrepentant All Ages Records for Nick Collins. After a few weeks working at AAR he laughingly confessed to me that he realised he didn't know much about punk music after all. He continued to become vastly educated in independent music from all over the globe and was completely in awe of the massive amounts of creativity coming out of people's garages, sheds, bedrooms, schools and pretty much any crevice it could grow, fungal like, biding its time to fruit all over the gentle ears of purveyors of punk. The anthropology fascinated him.
Among Paul's many other jobs he worked as a Meals on Wheels driver, feeding the elderly every weekend in central London, as a duty officer in community halls in Marylebone, Lisson Grove and Harrow Road and also as a reader and invigilator for university students. One of his more daring jobs was as a life model in various art schools in London (as suggested by our muse Mouse), where he would maintain ninjutsu poses, being adept in martial arts which he practiced weekly in Battersea Park as part of the Bujinkan. Paul also mentored the local drink group in NW1 / NW8, having been a survivor of alcohol addiction after 27 years, dragging himself onto the wagon in 2012 mostly with great success. He supported his own counsellor Gary Sutton, when he was taking time off for ill health, by taking the group for Wednesday walks around Regents Park, that he so loved. This replaced the groups meetings indoors, once covid struck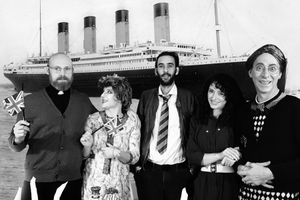 anarchistwood has been in a fabulous zone in the underground for the last few years with a solid rhythm section of Scarlet Carsen (Bug Central) and Mitch J Flacko (Hagar the Womb, Mekons, Big Bottom) playing many festivals and events, making films with Black Triangle Films, including the award winning "Fear in the Mind Killer" which came out in 2018, scooping the Portobello Film Festival music section prize. We even performed as a wedding band for three weddings in 2017. Our friends have weird music taste too, luckily. Paul enjoyed acting in anarchistwood films and punkvert VJ pieces and had a fabulous role in Jemma Freeman and the Cosmic Something's Black Rain, premiered on Louder Than War. We have put on our Subterfuge events, bringing together a witches cauldron of people, art and music from all sources and making magic nights since 2004. The first one funkcutter was hugely pregnant and the second one she was breastfeeding Luka whilst VJing as daddy Paul DJed. Subterfuges have been in many venues across London including Inn on the Green and The Others and most recently resided at Overdrive Studios, Deptford, run by John and Sarah (P.I.G.), where the band rehearse. Subterfuges were rare old affairs from which many trysts continue and fabulous memories we still have to entertain us in our dotage. In the years between, we also organised many genteel afternoon affairs at Vinyl Deptford with Ron and Jenny under the name Psyche Satyrday. Many live recordings were made of the acts who performed at these many events, giving rise to the Beg Yr Pardon compilation which the label released to raise funds for Reprieve charity, providing legal assistance to death row and Guantanamo Bay inmates. We were also involved in Jesus Hooligan's Natural Noise / Natural Chaos project over last few year, Paul really enjoying busting out some incendary drone attack amongst all the barrel bashing.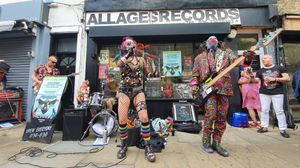 We started 2020 with a fantastic Apocalypse tour with T-Bitch, with whom we share a guitarist T-Red and including a couple of dates with The Crippens, another extremely enjoyable art cock band. Not long after that ended, the COVID-19 pandemic ensured we were safely locked down.  Paul continued his weekend work that had moved away from Meals on Wheels, which shut down and he was transferred to working in catering at the local hospital, including delivering to COVID wards. He also delivered shielding packs to the vulnerable for Westminster Council whilst I was sick with long COVID for months. We postponed our civil partnership booked for May 1st 2020 to Beltane 2021 and the huge parties and performances planned to go along with that. 
We had a beautiful brief and socially distanced outdoor gig on the streets of Camden outside All Ages Records in August, where many of our punk siblings attended as well as family friends and locals waving from their windows. We danced and sang and enjoyed the wind and the sunshine.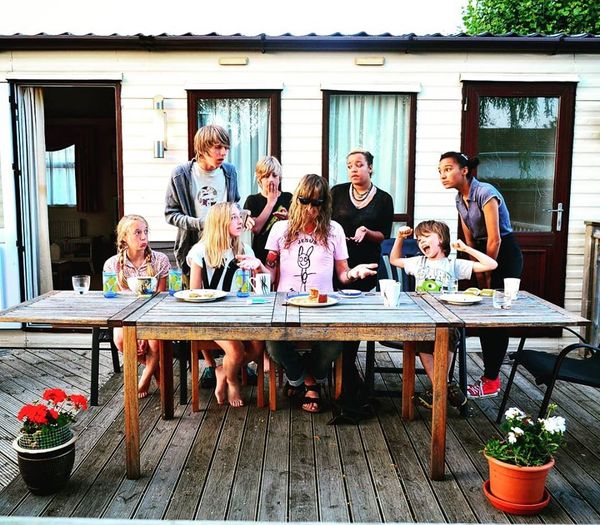 2020 was supposed to get better. Gary - Paul's drink counsellor - died in early September and another friend, and magnificent drummer, Alexia (Poisonous Cxnt) also passed over the same weekend. Ever the empath, Paul was most distraught and his mental health was in steep decline from then onward. He disappeared on November 14th 2020 after a traumatic episode. Unfortunately after six weeks of frantic worry as to where he could be, it has ended in a great loss of a wonderfully talented, kind, generous, funny and extremist psychonaut. Husband, wife, father, grandthing, pagan, egalitarian, shaman and artist. All these things and much more, my gestalt love, Paul Candiflp Blackwood.
RIP Motherfucker. 
psychedelic felicitations, 
funkcutter x